Written by
P
on July 4, 2014
So while I was moving into my new place, I came across several notebooks from elementary school all the way up through high school. Looking at them now, I have to laugh at my inability to spell and some of the random drawings I came across. I decided I'd show off some of the ones I found since they seem… quite strange.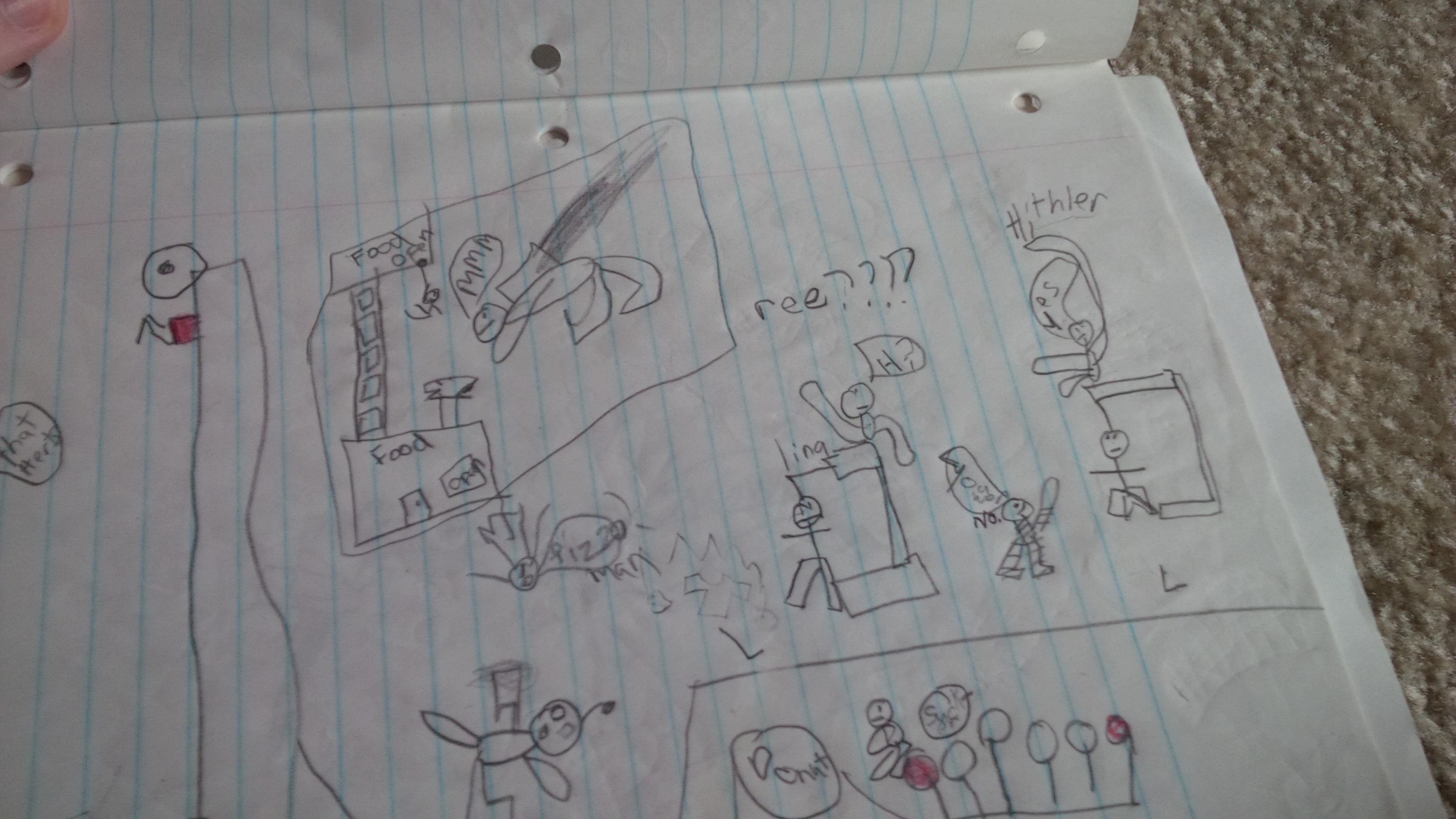 Apparently as a kid, I couldn't spell "Hitler" correctly. Why I selected that as a word for that hangman picture, I have no clue. So supposedly Nazi Germany used to say "Hail Hithler" instead of "Hail Hitler" . Also, "donut" planet? I didn't know there was a planet of doughnuts.
Speaking of Hitler, I watched the cartoon Dilbert on Netflix and got these as suggestions: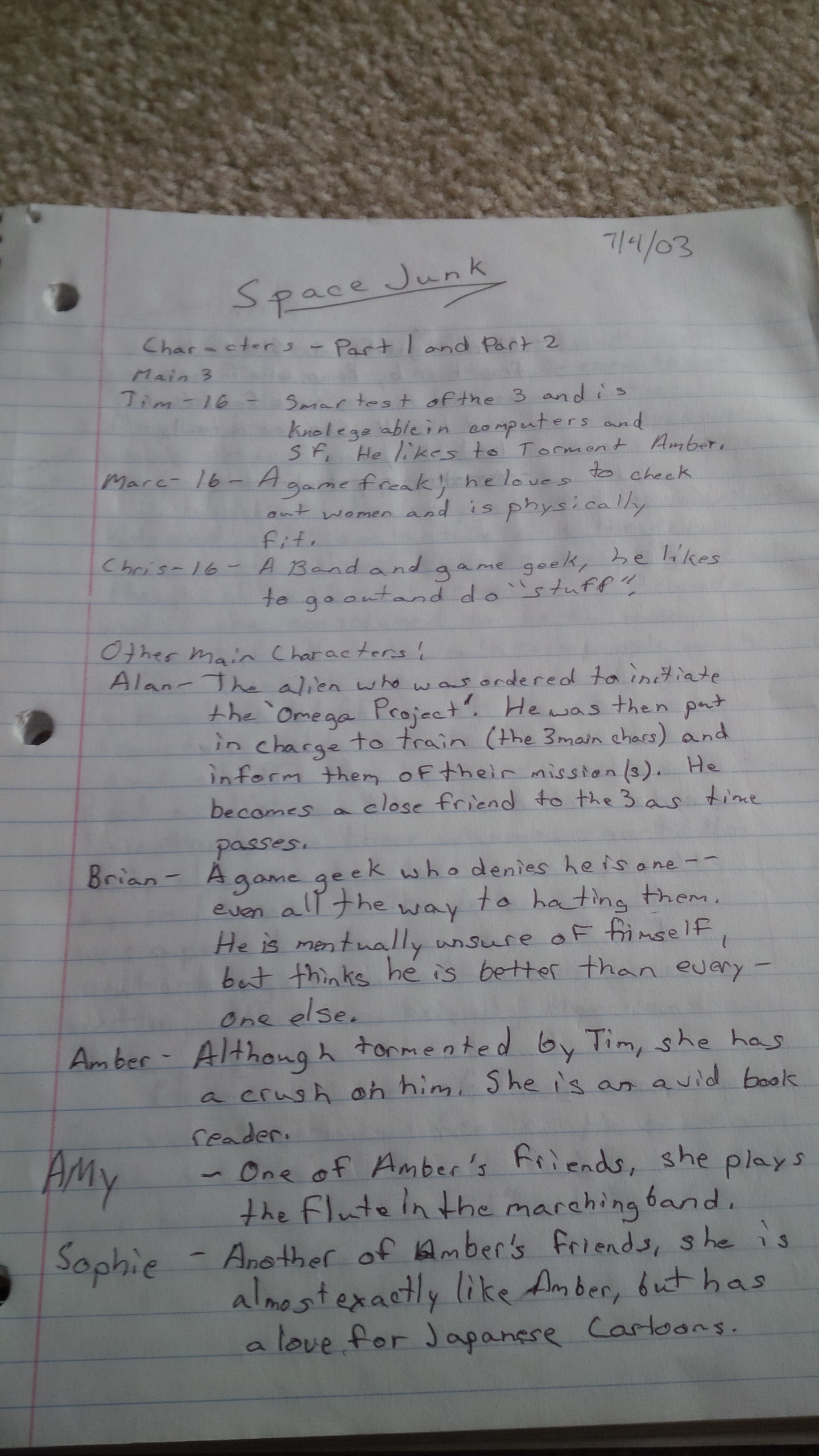 Old  Space Junk character list. Only three of those characters remain from the original list I created over 10 years ago, and they've changed compared to that. Also reminds me to get off my butt and complete my book. It's now three years past its due date. I didn't realize I came up with the idea that early though, apparently two years earlier than my first word document.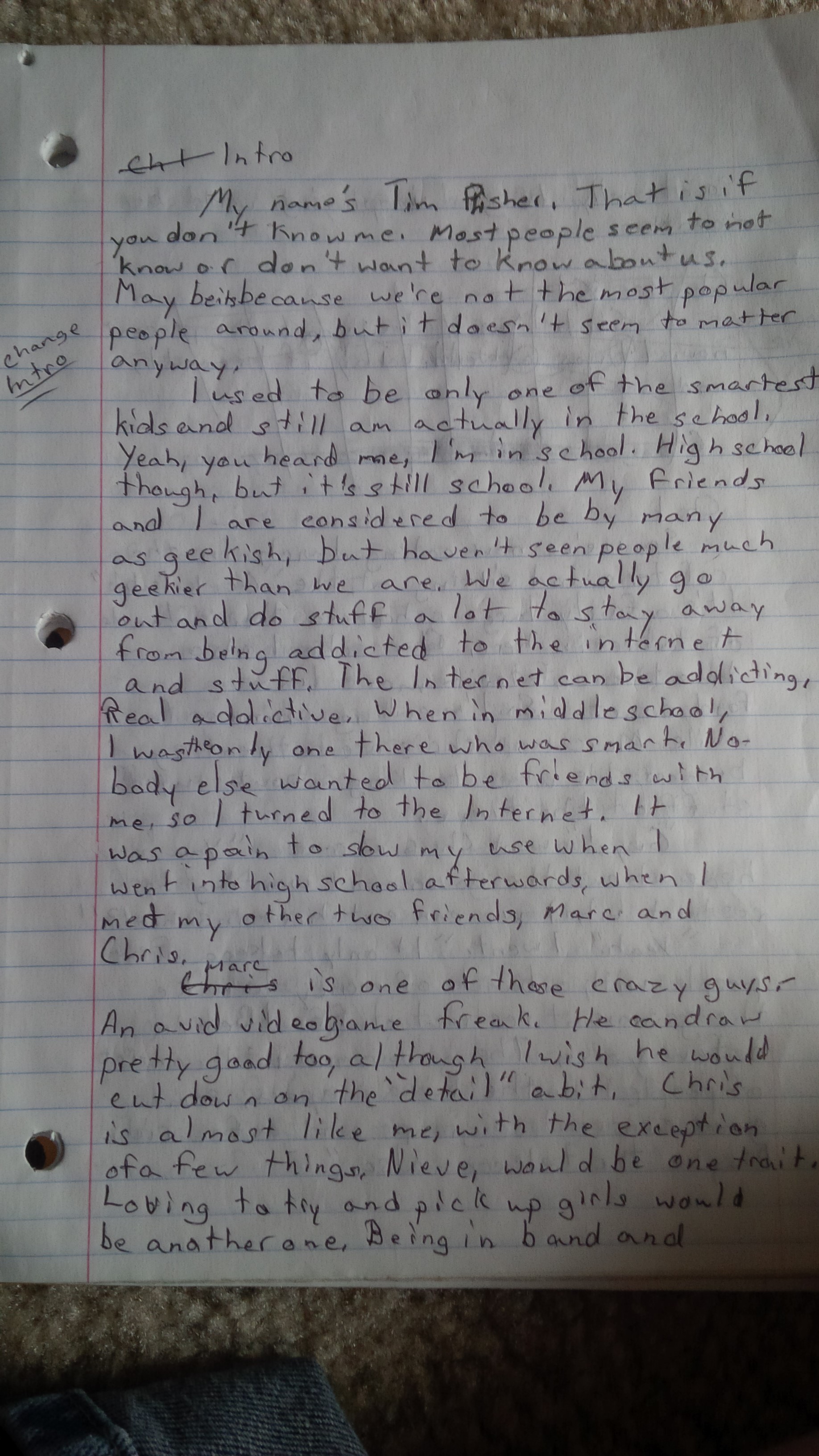 The old Intro from Space Junk in 2003-04. Only thing that still remains is the first sentence, minus the character name. I enjoy seeing all those spelling errors. I think I wrote that while being bored in my high school English class.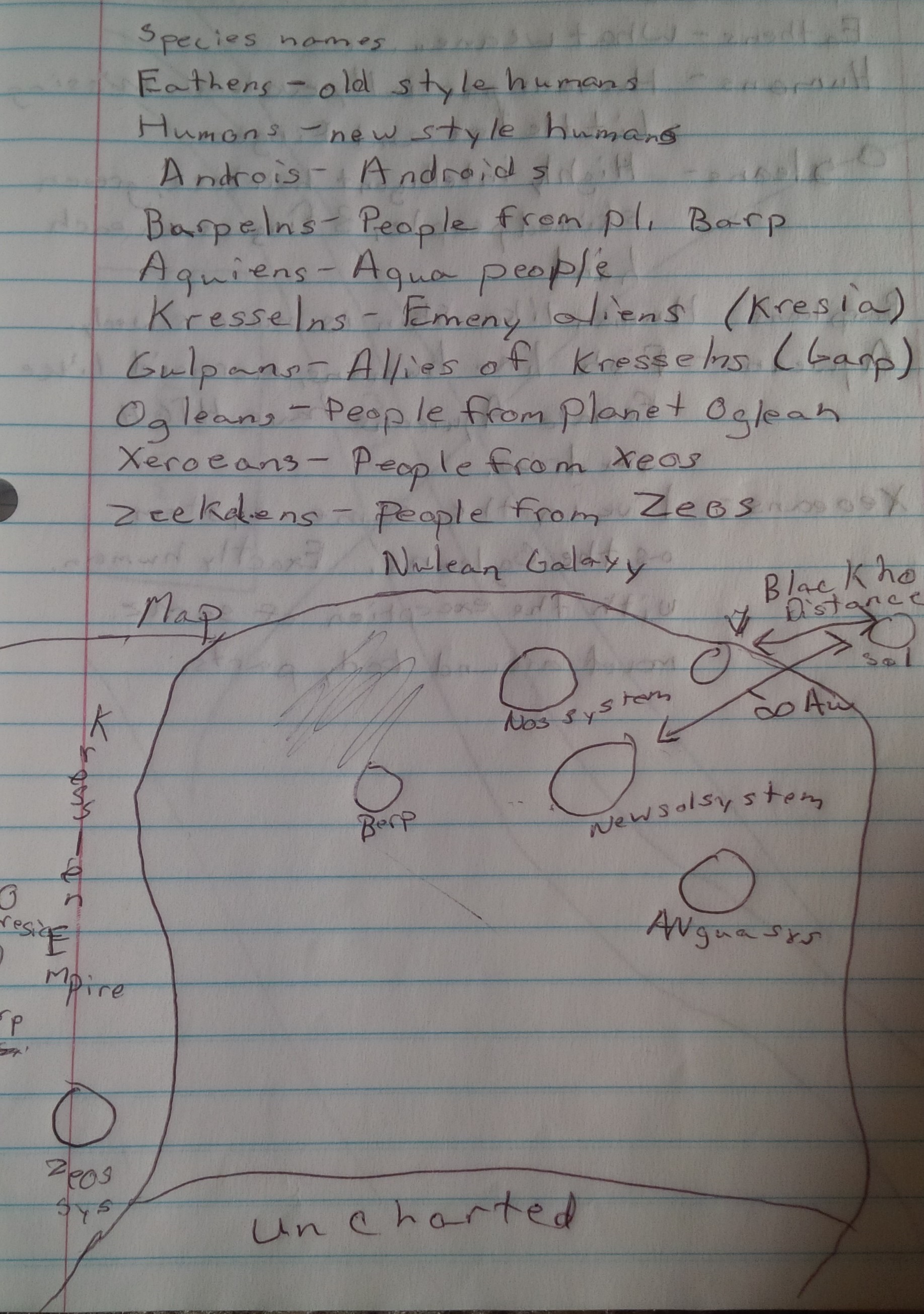 Old species list from 2003-04. None of those are used. Hell, even the later part of my plot was tossed not too long after this picture.
Going even older (the 90's)…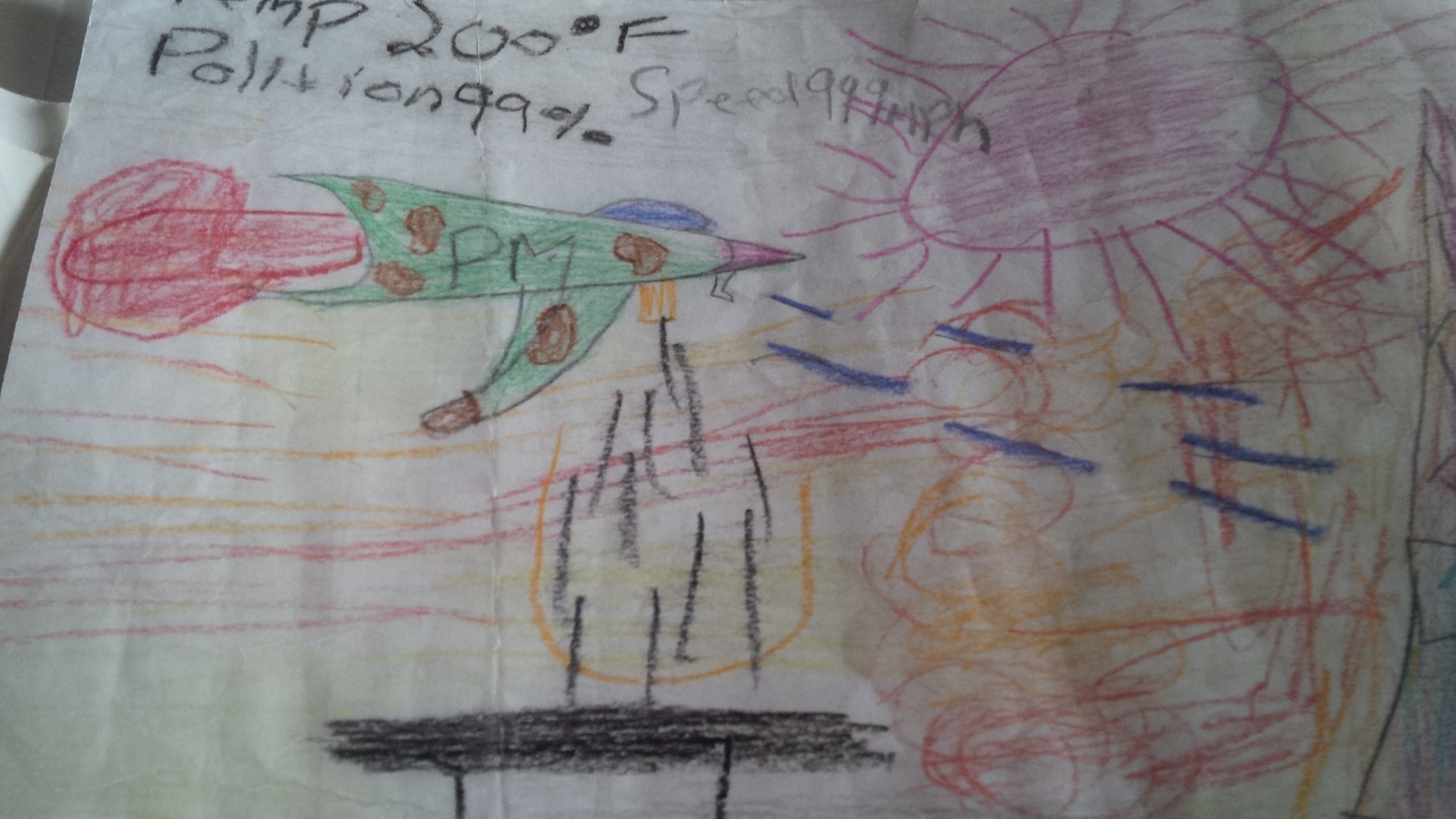 This was in a book that was dated from 2nd grade if my years are correct. 999mph is kinda slow for a spacecraft or airplane. Also the amount of fire coming out of the engines is concerning. I had a habit of labeling who was the pilot/copilot, me and a childhood friend flying Swat Kats style (big cartoon when I was a kid). Also, why is it bombing an empty platform? Waste of ammo (or energy).
I actually drew a comic book series around the same time as the picture above that when I saw years later cleaning out trash in high school. That comic book series is actually what Space Junk came out of, although the original story and meaning has long been trashed and replaced with stuff that makes more sense. Who knew that random drawings from my childhood would give me an idea for a book 7 years later (well now 17 years later)? Maybe I'll scan that eventually, I still have it with the other stuff.